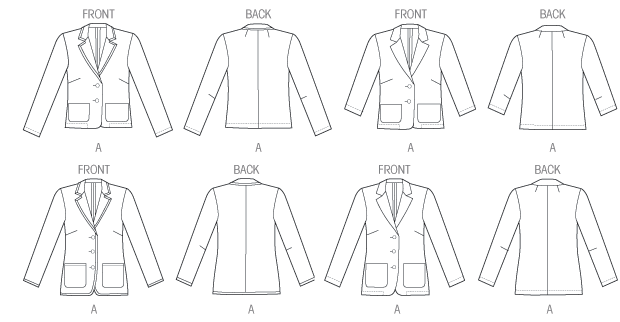 Butterick 5926
Well, hello there! I have not been updating my blog, but posting pretty much everything on
Instagram
as I sew. So here are two knit blazers, the red is a wearable muslin and the purple the final version. I used Butterick 5926, View B. I started by cutting a 16 bust and about an 18/20 hip, then went on to alter it.
Let's take a gander at the red one first. I used a no-so-very-good-quality ponte that is heavy on polyester and is a lighter weight. It was perfect for the muslin and ended up being a great
wearable
muslin as well! Before cutting any fabric I lengthened the bodice by 3/4" (1.9 cm), did a swayback adjustment of about 3/4" (1.9 cm), and added 1" (2.5 cm) to the sleeve length (later removed for the purple one). These are all standard alterations for me, so I just get them out of the way immediately.
After sewing it together, I had to lengthen the upper back darts, basically doubling the length. Right before setting in the sleeves, I saw how wide the shoulders were and removed about 3/4" (1.9 cm) of them. The fabric here is fairly drapey and creates a very casual, slightly wrinkly blazer. I feel like it's a really great alternative to a sweatshirt for everyday or at my super casual office. My buttons are from my stash of vintage goodies. The buttonholes are little wonky, I think because of the quality of the fabric. I used my serger for most of my seams and hemmed everything with my ultra awesome coverstich machine! I am so in love with my Brother 2340CV coverstitch since I got it for my birthday this summer, I found it VERY easy to figure out how to use after having had the Brother 1034D serger for about 5 years now.
I used a lovely purple viscose knit ponte for my official version. It's a heavier, really nice quality fabric. It works perfectly for this pattern. It has a firmer and stiffer hand then the red stuff I used for the muslin, the collar lays so much better, and has a more crisp look overall. I ironed in a small square of interfacing on both layers of the button holes, it helped provide a much better finish.
What's weird about the pattern is they don't include understitching in the process, this was even noted by other folks who sewed the pattern. I understitched the collar in back plus along the front collar pieces and lapel. With the second version, I got rid of that 1" extra I lengthened the sleeves. There is an elbow dart, it fell too far past my elbow on the muslin. On V.2, I was able to get a nice collar in back and on the lapel... maybe not a couture, perfectly tailored one I'd want from a woven blazer, but fantastic for a casual knit one!! The buttons for this one are from the local big box fabric store.
I read nearly every single review of this pattern on
Pattern Review
before sewing it up. Lots of folks had trouble with the directions for the collar, and I can see how things can get jumbled up. I was expecting a bumpy ride for this part, but had zero problems surprisingly. Overall, I found the directions to work really well for me. And, yes I excluded the pockets on both garments. The red ponte would have turned out a hot mess with the top stitching. I had the purple pockets sewn, pressed and ready to attach, pinned them on and realized I preferred the no-pocket look better.
This was an a easy pattern to sew up. The details like a center back seam, upper back darts, elbow darts and a notched collar give the pattern a great look. There is some hand-sewing with the back collar and insider shoulders. Compared to a tailored and lined woven blazer, this was a breeze to sew. I'll wear both on a regular basis when it's not a zillion degrees.
I tried to take pictures outside in the shade of my porch in the 100F (37C) temps. It is so freakishly hot here I couldn't manage more then one sweaty picture with a rumpled up blazer.
Oh lawwddy, it's hot in the Mid-Atlantic