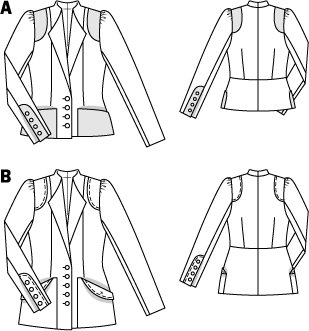 I sewed up this really great pattern last week and had this really cool black velveteen material and a super awesome red satin lining... and this faux leather that ended up just sucking the awesomeness from my blazer. But it's kinda my fault, honestly. I could have scrapped the pleather after realizing it was a slippery, stretchy material that didn't behave or sit flat or have the right hand to it. But I was bent on a garment with faux leather embellishments. But how cool is this with the contrast of the bold red lining!?
I feel like this ended up really amateur looking and homemade in some parts... but guess what... I'ma going to wear it any ole way (maybe)!! Even though I worked hard on it... muslin, alterations (minimal ones, though), loads of hand sewing... it just came out, Not Right. I'm not going to point out what's not right. I used Burda
8/2015 #106A
. It's a lovely pattern (minus the usual lame directions... so bad.. like usual... I skipped them mostly). I love the two piece sleeve, the seam in the center back as well as at the back waist... all elements that made the fitting easy.
I cut my usual 42 bust and graded to a 46 hip. I also added 1" (2 cm) length to the sleeve and length of the bodice, a standard alteration for me. I had to about a 1/2" (1 cm) total to the front seams under the bust for a better fit. Otherwise, that's it for fitting. I excluded some details of the pattern because I got so frustrated with the faux leather I forced myself to use... including the sleeve detail and changing the pocket up a little.
If you want more about this blazer, you can see my blog over on Fabric Mart
here
. I've got like 4 things I need to blog about that I've made including a Jalie zip top and an Ottobre sweater... and some other stuff my tired mom-brain won't let me recall at this moment. Coming up in my sewing queue are
JEANS
and a winter coat and more running gear... I've got me an 8K coming this month raising money for our zoo here in Baltimore... I think I need some zebra stripes or giraffe prints or something!?