This summer I got for a birthday present the new print version of Norma Loehr's bra making book

Demystifying Bra Fitting & Construction.

So of course I had to snag up her very first bra pattern, the Marlborough Bra. This will blog entry is about both the book and my finished, very wearable muslin.

Update- Sept 24, 2014

: Read about Versions 2 & 3 of this pattern here.
First off let's talk about her book
Demystifying Bra Fitting & Construction
. It originally was only available for Kindle and what not. I don't do e-books really, so I was thrilled it's now in print. The print copy appears to be an on-demand printed style book. The layout looks basically identical to the Kindle version
you can look inside
on Amazon. I do wish it were wire-bound to make it easier to lay flat as I use the book while sewing and altering-- but I imagine this would be more expensive to do.
There are NO PATTERNS in the book.
Demystifying
is meant to hold your hand through the process of making your bra from the very basics of understanding the anatomy of a bra, what supplies you need, altering an existing pattern, fitting issues with solutions and the actual sewing process. I have sewn so many bras in the past several years so I blew through the basics and headed to Norma's directions on alterations for the best fit along with using her construction sequence and details on what stitches to use. The info in the book is very user-friendly and easy to follow along. The photos make each step easy to understand. The printing quality is not amazing, so the photos are not 100% crisp and perfect, but that does not change or effect the quality of the info shared.
There are several ways to measure your body to get your bra size. There is no standardized way to do so and every RTW bra manufacturer and bra pattern will have different ideas on this. I've tried all of them. Norma makes a point saying any measuring is purely a starting point. Your size may not be precisely what you get initially. Norma's technique is to measure the underbust then add 4-5" to get your band size. This does NOT work for me. I need way more support then a bra band that large. But she makes a point saying this method is likely better for smaller busts (that would be me... but I have an unruly, not at all youthful, massive weight loss and recently nursed a baby sorta bewbies that need much of the same support and attention that larger busts traditionally need.) Her technique to get your cup size: measure you full bust (with a well fitting bra on) and then the upper bust-- the difference in measurements is your cup size: 1"=A, 2"=B, 3"=C, etc. This again has proven inaccurate for me as well. Using her technique I could be a 42C. This is much to large for me indeed. The most accurate bra size calculator I've personally have used can be
found here
. But it's all just a starting point, I still need to alter bra patterns to fit my figure.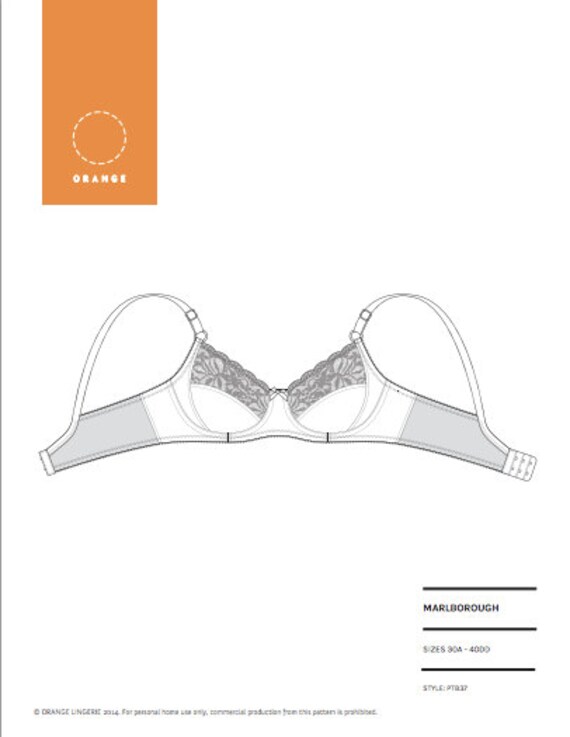 I used the book as a companion to sewing up my first Orange Lingerie
Marlborough Bra
. It comes in sizes 30A-40DD, so not for bigger busts really. There are a zillion pages in the pattern but you have to print 9 pages of directions and 2 more pages for your bra size. Each size comes on it's own page, no taping or anything. Plus you can print it on card stock to make the pattern pieces last and for easier handling as your cut your fabrics. The bra is so pretty and lovely and it's about 85% perfectly fitted! I made a size 38B. My problem: the cup size is too large and I will go down one size in my next go round. If I bought this bra as a RTW one, the cup would be passable.
The cups of the pattern is meant for little to no stretch tricot and laces, the band is supposed to have powernet. I used this gorgeous vanilla toned lace exclusively. It's a very firm, substantial lace and has maybe 10-15% stretch. I don't have any nylon sheer at the moment, I should have lined the cups with it to make it zero stretch... next time!
I am head over heels excited about my bridge alteration! I used the book to make this change. It shows exactly how to take your pattern piece and make it fit your shape. You can see in the picture about how my bridge was changed to fit me. I had to slash and open it at a slight angle-- this follows the shape of my figure exactly now! Woo hoo!!
Like I said, I've sewn up many a bra already. One of the popular bras we all seem to be sewing up right now is the
Pin Up Girls Classic Full Band Bra
(
here's one of mine
.) I laid my frame and band pattern pieces together for both the Marlborough Bra and the Pin Up Girls Bra just for comparison sake (the white paper is the Marlborough, the outlined in red tracing paper pieces are the Pin Up Girls.) Both have that nice full band and the area on the band where you attach the bra strap is a nice rounded dip... both elements for great support. I like how the Marlborough is more shaped in the band, the Pin Up one is all straight lines. The cup itself (not pictured... I don't post pics on me in bras on the internet, no thanks.): the Marlborough bra is a more rounded shape and the Pin Up one is a bit on the pointy side.
I used my regular sewing machine with a walking foot and stretch needle. Here are all of my stitch sizes... these are stitches all needed for this pattern:
Zig Zag: 2.5 length, 2.0 width
3 step zig zag: 4.0 length, 1.5 width
Satin stitch: 2.0 width, .8 length
Straight stitch: 2.5-2.8 length depending on the thickness of the spot I'm on
It's so easy to get your lace to line up just right where it meets the elastic, pictured above. Just place your seam line (where you will stitch your seam) directly on the low dip of the lace. Happy dance when it all works out!
The lower cup does not have any notches to line it up with the upper cup. This confused me a bit because the upper cup has a notch. I mentioned this to Norma and she said that upper cup notch is to mark the apex. I happened initially to mis-sew the lower cups, switching them around because of them not being marked. I also found myself marking up all the pattern pieces to identify what edge is what. It would have been nice if each pattern piece was marked with the pattern name... not a huge deal.
I used a white, narrow lacey elastic for the upper cup stabilizer. The pattern suggests that 1/4" clear plastic elastic. I am not a fan of that stuff and don't own any.
I love the fun contrasting orange elastics. I wish I had the matching orange bra closure, but I had to use this white one. Ugh. And what's extra nifty about sewing this pattern? The designer, Norma, is a real live person who quickly responds to any questions or comments I had... if you're on twitter
like I am
, just
tweet her
and get an almost instant response. This may be the top reason to buy and use indie patterns-- you got the designer ready to address your issues and queries.
I love the potential for so many fabric options. The cup is in three pieces, I can really see some sassy prints! Now on to a second one.