I'm finally taking the plunge, sewing everyday clothes with animal prints! I normally save the crazy prints for running gear. I keep seeing
Gail
posting all her really nice Jungle January makes and was super jealous. I spotted this cheetah print ponte knit when I was in Georgia for Christmas at a H@ncock Fabric shop... it was my first time at one of these stores as we don't have them in my neck of the woods. There was an inordinate selection of interesting fabrics in the bargain area... I think the small town I was in has different sewing priorities then us city folks?
My pattern here is
Burda 6990
, a variety of basic, long-sleeved raglan tops-- I specifically bought this one to make some cold weather running tops. You can see more photos of
my first very pink version here
on another blog post along with my Fehr Trade Leggings. I made View C for the pink top... it's a mock turtleneck. I used a medium-heavy weight nylon/spandex I picked up for next to nothing at a clothing manufacturer's warehouse sale this summer. I wanted a closer fit for this version so I went down a size. I made a 40 then graded to a 44 at the hip. I still went in a tad bit more for a closer fit yet, I think I could even more still, but really it's just fine.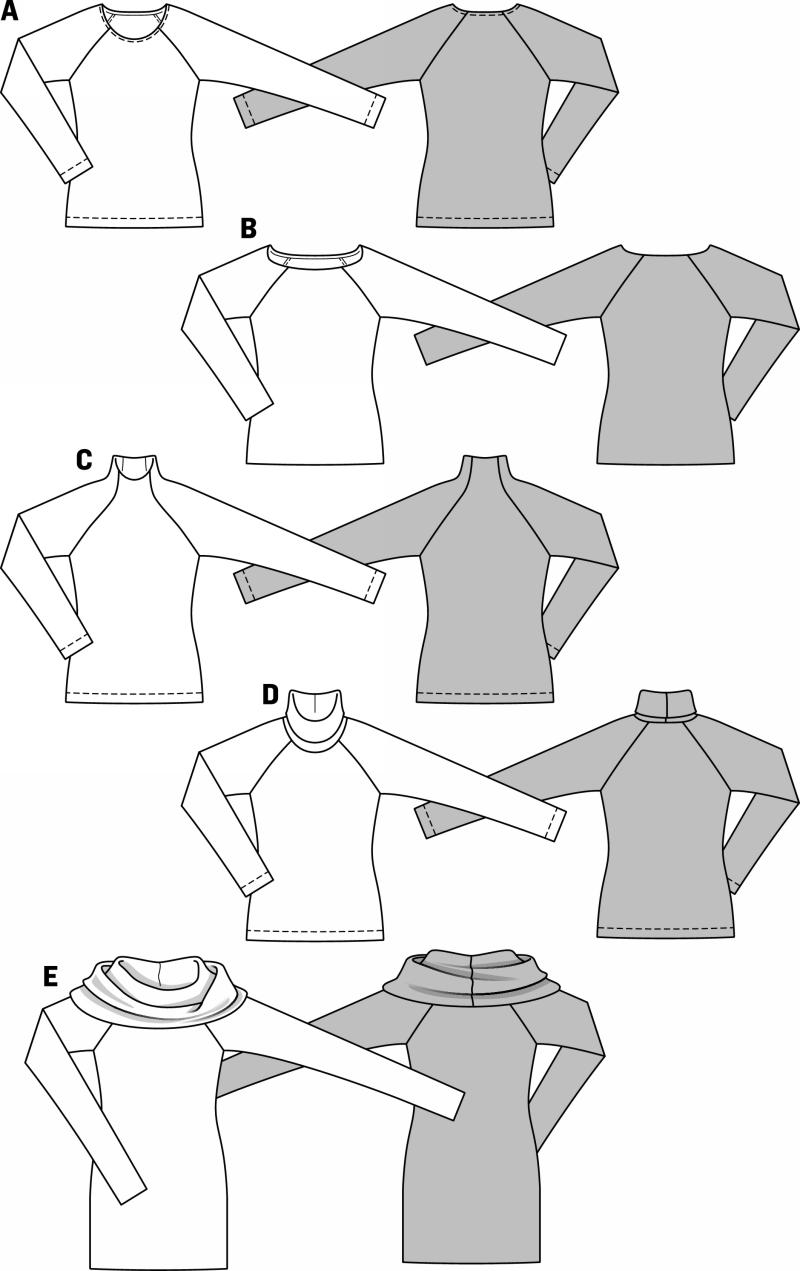 Burda 6990
Running Top: Burda 6990, View C
Now for my Jungle January version... I cut my normal Burda size 42 and graded to a 46 at the hip on View D, a fold-over turtleneck. I found it to be a bit large also and went back in on it and trimmed about 1" (2.5cm) off the bodice seams in total. Here I am trying to get on board with the feline theme.
I also reduced the width by about a 1/2" (1.25cm) off the sleeves, they were fuller then I expected and looked baggy. I also had to take in the front of the raglan sleeves a touch. This top is fairly long. I usually add 1" (2.5cm) to most commercial pattern shirts but this pattern is already long enough.
I am pretty sure this pattern is a TNT for me now. I have a serious lack of cold weather, everyday tops... this turtleneck helps to fill in that gap in my wardrobe. It's a super easy pattern to make. I timed myself at the serger and sewing machine-- it was barely 45 minutes, even with fussing and fitting along with a little silly, fun break with my 3 year old son. Cutting the fabric took maybe 10 minutes. The whole process was faster then going to a store for a too expensive, basic shirt that is ill-fitting.
Right now I'm eyeing
Vogue 8884
, a lined 3/4 length coat, for my next project. I used my winnings from the
Fabricista Fashion Challenge
for some nice material from Fabric Mart. I decided I really want to make something special that is timeless, functional and can be worn for years to come even if I'm still a stay-at-home mom or if I do return to my professional life. Until then, I have this sassy new cheetah top! Oh, and that skirt is a me-made, too. I haven't worn it since a Christmas party in 2012, so there are some hanger creases on it! You can
see my original blog post about the skirt here
.