I'm slowly chugging along with the latest assignment for the Fabricista Fashion Challenge. It's our fifth challenge and we have two weeks to work on it. Here's the lowdown: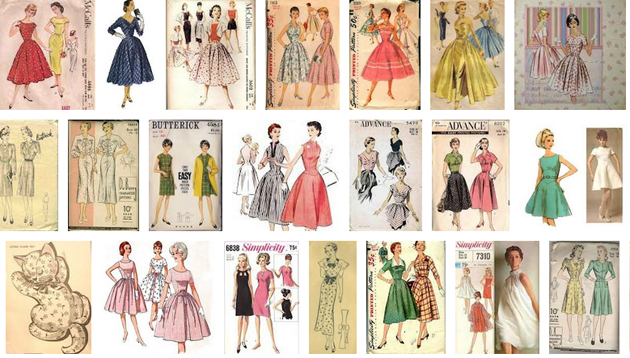 Random (not my) Vintage Sewing Patterns
Week 5: Timeless Classics--
6 Seamstresses will have
2 weeks to complete this challenge.
Sewing a garment from a vintage pattern is challenging. The pintucks, pleats, and precise fit can be difficult to master. Choose a vintage pattern and modernize the piece. You can modernize your piece with styling, embellishment, or fabric.
You will be judged on difficulty, craftsmanship, how fashion forward your look is, and FIT!
Take your time, you will have two weeks to make it perfect!
The winner will

receive six yards of silk fabric.
This is such a wide open challenge as we can choose ANY pattern from 1993 and before-- my rule of thumb for vintage is 20 years and older. I have only a handful or so of vintage patterns in my stash but I had an opportunity to rummage through a friend's massive vintage pattern collection... and a bonus is she is about the same size as me and most of her patterns are my size. Fortunately she curated a really great selection for me to look through (I would have passed out if I had to look through and choose from the hundreds she has in her beautifully manicured library of patterns!)
I have in my possession several borrowed patterns from several different decades. The one thing I will say about my selection: it is not from the 1990s... that was a rough time for commercial sewing patterns. Perhaps because the economy was booming and folks could afford to buy their MC Hammer pants from the mall instead of making them. Sewing it seems, like so many homegrown activities, flourish and make great strides during times of hardship. Some (likely obvious but) interesting examples of creativity during rough times-- the artwork and music from the WPA Act of the 1930s, the Make Do & Mend sewing movement during WWII, and even the massive resurgence of sewing arts in the past several years during our economic depression. I was working for a major North American craft chain store at the time when 9/11 occurred-- it was fascinating to see a resurgence of buying creative materials and making "craft". The economy was in better shape overall at the time so there was money in America's wallet to buy stuff. Possibly it was a way to reflect and understand things during a rough time-- pre-made scrapbooking material sales blew up at the time, hoards were coming in and buying that stuff.
Anyhow, I finally chose a pattern for the sewing competition I'm in, worked on a muslin for a few days and have my perfectly cut fabric waiting next to my sewing machine. I'm excited to see what everyone else is working on!