Today I'm sharing my garments I made for Week 3 of the
Fabricista Fashion Challenge
sponsored by
Fabric Mart
. Last week week
Meghan
was the winner with
a stunning take
on
the Salme pattern
each contestant w
orked with. Unfortunately we lost Tina, another very talented seamstress whose work I'll really miss seeing in this week.
The folks at Fabric Mart will post all contestants work on their blog Tues, Oct 1-- voting will be open Tues and Wed-- results will be up on their blog Thurs, Oct 3, 2013.
Week 3 Challenge--
Using a 6 yard Bundle that Fabric Mart has given each contestant, make TWO pieces. What's in the bundle is a mystery. Everyone received something different! Incorporate the three fabrics in some way. Use fabric from your stash to finish the look, but keep in mind that the bundle fabric must make up a majority of the outfit. Each participant will be judged on creativity, craftsmanship, the way the fabrics are used together, and how they fit.
My three fabrics: [from left to right] A poly brocade--
black floral on a and pale gray background
, a cotton/poly shirting-- the solid claret/violet/purple/wine... not sure what to call it, and a cotton houndstooth-- the black and white fabric. With this I made a fully lined tailored peplum jacket along with a fully lined fitted pencil skirt.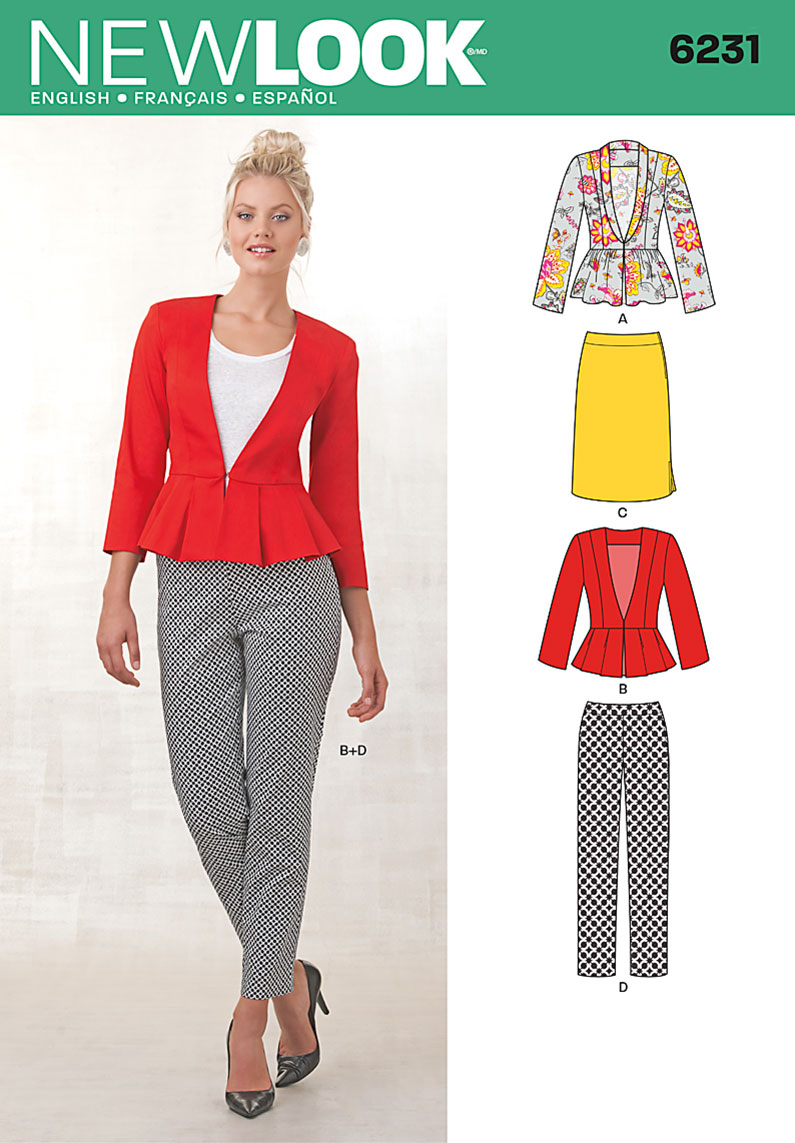 I used View B of
New Look 6231
for my jacket. The pattern doesn't have a lining so I had to work one up. I used the floral brocade and the solid purple to line it. After reading multiple reviews for various New Look patterns I saw their sizing was inconsistent so I made a muslin to work on detailing my fit. I ended up using a size 14, but according to the size chart New Look wanted me to cut a 16/18. The only major change outside of lining it was reducing the width of each shoulder by about 3/4" (1.9 cm.)
I used
Simplicity 1760
for the skirt. I cut a 16 at the waist and an 18/20 at the bum/hip area. I sewed this with the houndstooth, a panel of the purple in front and fully lined it with the purple material as well. This pattern was not lined so I had to work one up for this as well.
It was a tight week for me-- I had jury duty, family is in town visiting and on top of that I have a nasty cold (I tried really hard not to look sick in these photos!!) With family in town, it's helped me to concentrate on most of my hand sewing while they had fun with husband my toddler son.
With the princess seamed paneling on the jacket I was creative with how I laid out the bold print. Luckily I had enough material to do this with! I'm so happy with how the sleeves lay and getting the shoulders exactly on point.
I really like the color of the lining fabric. I happened to own a tank top in this same color (and some tights, too, but didn't wear them for the pics because it was a bit much.) I did A LOT of hand sewing here. I rejected the machine for a hand-sewn blind hem along with hand-sewing the lining into the jacket itself almost in its entirety. I was sure to add that little overlap in the back of the lining to create comfort and ease in movement when I wear the jacket. I chose to not line the peplum as all those layers in the pleating was just too thick and sloppy looking.
What's funny is that the pale gray background was not the original color of this fabric. During pre-washing, the colors ran like crazy and made the bright white turn to a pale gray--- but I quite like the unexpected results! The color is perfectly even and it looks absolutely intentional and no one would be the wiser if I don't tell them.
I originally planned to use only houndstooth for the main main fabric of the skirt but had just enough to add the purple panel in front. This skirt fits perfectly!
The solid fabric was a huge pain in the butt to hand sew since it is so tightly woven and of course I couldn't find a thimble to help me to stop jabbing my fingers up. With time being tight this week I used the machine to sew in the zipper to the houndstooth but made sure to hand prick it to the lining to prevent the fabric getting stuck in the teeth. I was able to find some vintage notions in my collection, the zipper as well as the hooks and eyes for each garment.
Overall I'm really excited about these two garments! After this competition I've been planning on making a tailored fall/winter coat and this really has pumped me up to do that. I have some really interesting designer coating I was able to pick up recently.
Here are a pile more photos! And again... I cannot wait to see what the other ladies sewed up this week!!
And this is closer to how I will likely wear the jacket...
well maybe not with this exact shirt, but likely with jeans.